NFL Draft 2019 – Radio Show – Frank Coyle & host Andy Gresh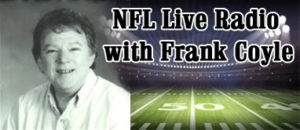 Audio Player
Use Up/Down Arrow keys to increase or decrease volume.
Draft Insiders' 2019 Yearbook – Available Now
Premier NFL Draft Yearbook & Scouting Service
 Over 300 in-depth Scouting Reports – View Under Frank Coyle Blog
Order Online or Call (732) -842-4749
NFL Draft Radio Broadcast with Pro Scout Frank Coyle and host Andy Gresh –
NFL Draft 2019 – Pro Prospects
NFL Draft Radio Show on Pro Prospects for the NFL Draft 2019
Go to DraftInsiders.com for NFL Draft Info
Sign up for Twitter and Free Email Thru the NFL Draft 2019
NFL Team Report 2019 (40 pages) – available Now – Every NFL Team broken down to Roster, Team Needs & Free Agency additions. In-depth Evaluation of All Team Needs and Draft Projection
NFL Draft Update Report – available Now
Complete 7 Round Mock Draft – Final Top 300 Value Board – Top Small College Prospects
Frank Coyle is a long-time scout with nationwide ties with coaches, scouts and player agents. He is a long-time member of the FWAA and voter in College player awards – Heisman, Biletnikoff, Thorpe, Outland, Nagurski, Lombardi etc for the past 25 years. He writes College Football Mondays weekly during the season. He is a longtime scouting consultant for the Senior Bowl, the nation's premier postseason All-star game. He does sports radio shows for ESPN, Fox Sports and Sporting News on a year-round basis related to College Football especially during the postseason team and All-star Bowl time. He has worked for CBS Sports, NBC Sports, Yahoo and Rivals sports publications and web sites.